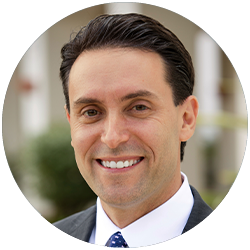 Marc Lichtenfeld
After getting his start on the trading desk at Carlin Equities, he moved over to Avalon Research Group as a senior analyst. Over the years, Marc's commentary has appeared in The Wall Street Journal, Barron's, and U.S. News & World Report, among others. Prior to joining The Oxford Club, he was a senior columnist at Jim Cramer's TheStreet.
Today, he is a sought-after media guest who has appeared on CNBC, Fox Business and Yahoo Finance. His first book, Get Rich With Dividends: A Proven System for Double-Digit Returns, achieved bestseller status shortly after its release in 2012 and was named Book of the Year by the Institute for Financial Literacy. It is currently in its second edition and is published in multiple languages.
In early 2018, Marc released his second book, You Don't Have to Drive an Uber in Retirement: How to Maintain Your Lifestyle without Getting a Job or Cutting Corners, which hit No. 1 on Amazon's bestseller list.
You can follow Marc on Twitter: @stocksnboxing.
And you can follow him on Facebook. Just click here.
View His Latest Opportunity